What's Happening In Your Garden This April
Spring has sprung! The clocks have changed. The sun is shining (mostly). So, let's see what we can get done in that garden of yours ready for summer!
At this time of year there's so much we could be getting done, from planting bulbs to laying the landscape ready for summer, it's all about how much you want to do. To help you get started, we've put together some jobs you can do now spring is here in order to prep your garden for the summer!
March Catch Up
March was all about getting back on an even keel after the washout that was February! There was tidying up to do and (for some) more than a little damage limitation. So, are you all caught up? If not, don't worry! Click here to check out our last post for a recap! If you are on top of everything and ready and raring to go with the new season, read on!
Looking After Your Lawn
With the first mow of the lawn out the way it's now time to concentrate on getting your lawn as healthy as you can before the summer hits.
Before the hot summer sun comes, it's time to concentrate on repairing any patches you may have on your lawn. Over the cold winter period you may have noticed some of your lawn dying, of the grass being replaced with moss. While moss is usually a wonderful shade of green, and is super bouncy underfoot, it's doing your actual grass no favours.
There are a number of weed and feed or moss killers on the market that can work wonders, just make sure you get the right one for you. When you are looking at moss killers, find the one that suits you best. Some brands will require raking afterwards, whereas others don't need any extra work.
Make sure all of the moss has been removed and there's no traces of weed killer left over before you sow fresh grass seed. Once you're satisfied that your moss has gone, best practice is to water the lawn, if you haven't had much rain, to remove any remaining residue.
When selecting your lawn seed, try to select a variety that is as close to your current lawn as possible – unless you are planning on coating the whole lawn!. Otherwise you'll end up with patches. There's a variety of grass seed available on the market, from thin grass to shady grass, and even hard wearing grass. If you plan to do the whole garden, choose the best for the space you have, or even your desired look. For patch repair aim to get the closest to what you have, reading descriptions will help you with this.
Always make sure you read the instructions on your chosen seeds before using. Applications can vary widely between brands. For example, some may instruct you to add water right away , whereas some may advise you to leave it as long as possible.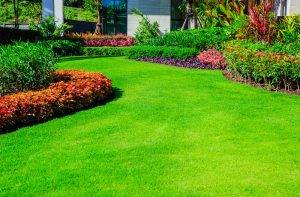 Feeding Time
We don't mean feeding time at the zoo! Although depending on your pets and wildlife it may feel like that sometimes.
We are talking about feeding your shrubs and plants. We have already touched on feeding your lawn but that's not the only thing in the garden that will benefit.
At this time of year your shrubs and roses will all start to require a little bit of something extra to bring them to life. Whether you use organic fertiliser or you look at what's available in your local garden centre, make sure you are getting what's best for all the plants in the area, Else you may be feeding one plant, but not others.
Pest Control
Pests are a gardeners worst enemy! From slugs to snails and bugs – even weeds! – there's always something lurking in the undergrowth ready to sabotage your efforts.
With that in mind, now is as good a time as any to make preparations to stop pests in their tracks.
Some weeds may have grown throughout the winter, while others may have lay dormant. But make no mistake, just because you can't see them doesn't mean they don't exist. For that reason, put your best foot forwards and do a bit of tidying. This means getting down and dirty in the soil and pulling up any weeds you discover, root to tip. This will prevent them establishing as the seasons progress and potentially overwhelming your garden.
Planting Spring Annuals
As the name suggests, now is the perfect time to plant your spring annuals. With the majority of the frost now behind us it should be a safe time to add some spring colour to your garden.
Some great annuals to get that pop include sweet peas, petunias and cosmos. Taking a wander into your local garden centre will give you some great inspiration. Make sure to check if they are suitable for your soil, and light conditions too!
Now is also a great time to sow your seeds ready for a great splash of colour in the summer. Petunias, zinnias, marigolds, purple coneflowers and any other seasonal flowers you fancy in your flower beds. It might seem like some work now, but you will definitely enjoy their blooming sight in summer.
Need Help With Your Maintenance?
Here at Abingdon's we offer a complete garden maintenance service for those of you who don't enjoy doing the gardening as much as we do, or indeed those of you who can't get out into the garden as much as you'd like. We can also help you design and execute a complete overhaul of your garden this spring.  Simply contact us and we'll discuss what we can do for you.