Useful Tools For Your Garden
Whether it's your first garden, or you've had a garden for 50 years, we all know that garden tools just appear, and we accumulate a number of useless tools over time. Many of us have a shed full of tools that we have never even used, or they were used the day after we brought them and haven't seen daylight since. So why not treat your tools to a bit of a clear-out, and take a look at the condition of some of your most used tools. This article is also a great starting point if it is your first garden, and hopefully will help to encourage you not to go overboard with buying all the garden tools you see.
Where to start
If you are emptying out your shed, before we get to the key tools, pull everything out and take a good look at the condition of your tools. Some of these may be a little worse for wear. Don't forget some things over time can become dangerous to ourselves, let alone to our garden and flowers.
If you are starting up your gardening life, think about what you will be doing with and in your garden before you consider which tools to buy. We don't want you going out to get them just because they're on a list you read on the internet.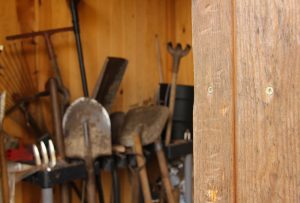 Those key tools
While every garden differs, and you may find that the tool you use the most isn't featured, here is a quick guide to the tools we feel benefit most gardens.
The garden fork – A must have in many gardens. Useful for turning over soil in borders, loosening soil when youre getting ready to dig, and even aerating your lawn!
A digging spade – Again this tool has multiple uses. Its main use is its namesake- digging. From digging out larger holes for big trees and plants, to digging out old trees. It can also be used to help remove turf if you decide to change your lawn.
Garden trowel and fork – alongside their much larger counterparts, the smaller handheld versions are great for planting and tending to pots and borders. There are very few gardens where these won't be used regularly.
The rake – There are two types of rakes that we can mean here, the leaf/lawn rake or the garden rake. The garden rake is more heavy duty and is used for moving and leveling of soil, while the leaf rake is primarily used for removal of leaves and debris on the lawn (without damaging the lawn itself).
Loppers – These long handled cutters allow you to trim back any overhanging branches and keep the hops of hedges tidier. Reducing the amount of time that you need to spend up a ladder or on a chair. Definitely a must if you have trees and hedges, however, if you don't it may not be a necessity in your tool arsenal.
Secateurs – Those of you with numerous flowers in your garden will know how important these are to have. They are also a great tool to have when you have multiple hardy shrubs in your garden.
Hoe – Many consider this to be a back saver. It can help to weed out, without the need for bending down. Also can be used to edge your lawn in place of an edging tool.
Watering can – A simple addition to any collection of garden tools. While those with larger gardens may opt for a hose, the simplicity of a watering can allows it to go anywhere in the garden. It allows you to water hanging baskets, pots and to offer a gentle shower of water to freshly planted flowers.
Gloves – They may seem a little odd to add onto this list, but there are many people who don't always consider these an important garden tool. A decent set of gardeninging gloves not only helps to protect our hands, they can also help us to protect the plants/trees/shrubs that we are handling.
There are many other tools we could have added to this list, but you would have ended up with a full shed all over again. We haven't included any power tools here, simply some essential hand tools, so if you're wondering how to cut the lawn, you might want to keep your lawn mower!
If there is any garden maintenance that you require some assistance with please get in touch with us today to discuss how we can help you. And don't worry, we'll bring all our own tools too!