Time For New Turf?
Summer has been and gone, garden parties are a thing of the past, and the kids are heading indoors with their toys. So what better time than to re-turf your lawn with minimal disruption.
Perfect timing
While technically you can lay turf at any time of the year (care will alter to suit the time of year) the ideal time to lay your turf is in the Autumn, namely October.
October is a great time of year to lay turf for many reasons:
The ground hasn't yet frozen over
The rain will help to water the lawn allowing roots to establish
There is less traffic on the lawn at this time of year
Autumn and winter require less/no mowing, allowing the turf to root securely
This time of year requires very little prep for your lawn, so it's best to take advantage of this.
Lawn for lawn
There are many reasons we might be exchanging an old lawn for fresh turf. The most common reason we see is the old lawn being full of moss and/or weeds. While moss tends to make your lawn look green and healthy, there's actually not much actual grass there to be a lawn. If this sounds like your lawn, the easiest way to get a completely grassy lawn is to rip it up and start again. This reduces the use of weed and moss killing chemicals on your garden, and reduces the risk of using a different type of grass seed than your existing grass, leaving you with patches.
Some people also exchange their existing lawn for fresh turf when it starts to look a little thin and patchy. It might be that your lawn gets a lot of wear. Parents of young footballers will know this pain. Dog parents will also note patches in areas their furry companion uses regularly. When it comes to patch control, while you can sow fresh grass seeds (risking different types of grass and patches) or lay patches of turf (this may not blend with existing lawn) the best way to get a fresh even lawn is to start from scratch.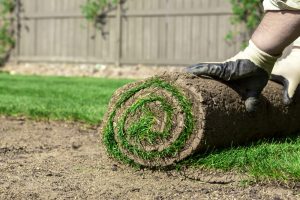 Preparing your lawn
Here at Abingdons we are experts in laying fresh turf, whether its lawn for lawn or creating a fresh grassy space. Here are a few tips we stick to before laying any turf:
Clear the lawn area and your old lawn can be composted down and taken to your local green waste centre
Ensure any bricks, stones or other debris is cleared before digging your garden up and we can also provide extra quality soil if required
It's important to remove humps and hollows after adding your soil with the aim to get the topping of your soil flat and firm, making sure it won't catch on mower blades once grown
Add pre-turfing feed to your soil, which will help destress the grass plants after their journey from the turf field to your garden. Proper nutrients will help them root in quickly and stay strong and healthy
One final rake is required to add pre-turf fertiliser and level the surface
Laying Turf at Abingdons
If all of the above sounds a little too much for you to want to try on your own, don't worry, here at Abingdons that's what we do.
Whether you want us to start right from the beginning of the process and tear up your existing lawn, or indeed clear the ground ready to start a lawn. Or if you have gotten that far and now want us to sort your turf, we're here to help.
From small spaces to commercial estates, we can work with you to get a quote tailored to your lawn and work out the best date for you. We can work in all weather conditions, so rain shouldn't put us off. Contact us today to discuss your needs.
If you are looking for someone to maintain your lawn in the future, just speak to a member of our expert team and we will be happy to sort this out with you. If your new lawn if part of a bigger garden landscape project we are also here to help. Whether you are just starting your journey, or need help with the finishing touches. Check out our Garden Landscaping page for more information.