Making an Accessible Garden
As we approach the end of the year our attention turns to plans for next year's growing season. Everyone can benefit from time outside and enjoying being in their outdoor space. For people with limited mobility being in a garden can pose many challenges, but making an accessible garden means that the elderly, or those with additional needs can enjoy gardening and the fruits of their labours. Abingdon's Complete Garden Services have a skilled team who can design and construct a garden layout which will be accessible to all.  
Landscaping Design for an Accessible Garden
Abingdon's Complete Garden Services are experts in landscaping design and can plan and construct an accessible garden. 
Factors to consider are wider pathways to allow for wheelchair or mobility scooter access. The surfacing of any garden paths should be level, smooth and flat. Avoiding rustic block paving or gravel paths as these can be slippery and cause a trip hazard. Those who rely on support for walking will also find it difficult to move on these materials so we will recommend a suitable alternative.
Raised beds have many practical benefits for growing flowers and vegetables as they offer good drainage. For those with limited mobility these can be tended to without having to bend and stretch too far. The great aspect about being in a garden is that it can stimulate all of your senses. If a person is visually impaired, raising the plant level closer to them means they can enjoy the beautiful colours, or reach out and touch the plants more easily. Smell is also important and plants like lavender waft their scent closer to nose level when planted in an elevated setting.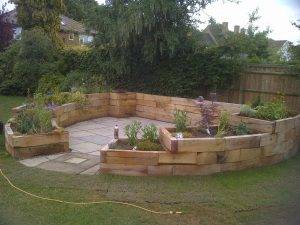 Garden Maintenance for an Accessible Garden
If you are having difficulty maintaining your garden Abingdon's Complete Garden Services also offer a comprehensive garden maintenance service. This includes all the tasks you or a loved one may find difficult to do including, grass cutting, hedge trimming, weeding and much more.
Please contact us today with your enquiries about all aspects of design and maintenance in an accessible garden.