Brighten Up Your Garden with Solar Power
Summer nights are rolling in, but the weathers still warm. If you're looking to make the most of your garden before the nights start to get cooler add some creative lighting too jazz up the space.
Not only will the lighting mean you can use the space for longer, it can add a flair of design or colour to the area.
Solar powered or plug in?
Everywhere we go that sells garden products now offers a wide selection of garden lights, many of these are solar powered. But which is right for you?
The benefits of solar powered lights are; they turn themselves on when dusk hits, they do not cost anything to run and you do not have to worry about where the power source is when you are placing them. However, there are a few downsides to solar powered lights; cheaper lights may stop working fairly quickly, usually due to water damage (ironic when they are for the garden) or batteries no longer holding charge.
Plug in lights are ideal for some spaces, for example, patio areas that have a power supply to them and are used after dusk. Using electric lights on patios gives you control over when the lights are on and off, meaning you can use the space as an extension of your house. The biggest downside is, of course, the requirement of power source, which limits the location of the lights.
Most modern garden lights available are now solar powered, they can be found much more readily and cheaper than before. However, if you are looking for weather safe electric lights you can grab yourself a great bargain around Christmas time as Christmas lights are now available in such a range of styles and colours that they are suitable all year round!
Brighten up your patio
Over the summer we tend to spend a lot of time sprucing up our patios and making them wonderful little areas to sit and spend some time. Some days we're just too relaxed to want to go inside when it gets dark, so why not find some nice lighting and use the space into the darkness.
There's a wide variety of garden lighting available that you can find something to suit all tastes and garden designs. If you have a parasol, there are lights available that can sit just inside and light up your table. If you have a more elegant space a stand up lantern or two could finish off the space with a flair.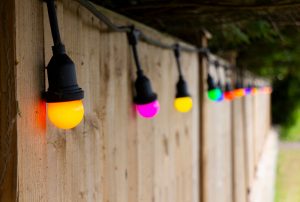 Colour up the space
Garden lights have increased in popularity in the last 10 years, meaning that there is now such a variety of lights available you'll be hard pushed to think of something they haven't designed yet.
When you're looking to add colour to your garden using lighting, choosing your lights may seem daunting at first, but take a look around and you're bound to find something that catches your eye. From ornate brass effect pigs, with multicoloured solar lights inside, to a string of coloured Chinese lanterns the variety is amazing.
For some pops of colour around an otherwise plain area, a great choice is a set of string lights. For simplicity you can get them in bulb shapes, for something a little more fun you can find them in a range of designs.
Feature your flowers
Every garden lover enjoys making a feature of their favourite plants and flowers. When the light starts to fade, why not direct a few solar powered spot lights to your favourite flowers? Making them a focal point, even in the dark.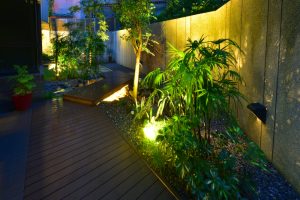 If you want some flowers that stay the same no matter the weather or season, why not look into some solar flowers! Instead of making your existing flowers the feature when darkness falls, introduce a few lights in the shape of flowers. This way your feature only changes when you want it to.
While we can't help you to specifically choose your lights, here at Abingdon's we are available for a range of your garden needs. If you're looking for that patio to light up, or if your focal point needs a bit of maintenance we're sure to be able to offer some help. Take a look through our gallery for some ideas and get in touch when you're ready!