Here at Abingdon's Complete Garden Service we have been supplying landscaping in Abingdon for many years and have a wealth of knowledge in the landscaping industry. We know what it takes to create your dream garden, and our hard-working team take every single requirement into consideration so that you get a service that's better than you ever expected!
By choosing us for landscaping in Abingdon, you will not only get excellent customer satisfaction and reliable services, you will get an unbeatable price that you simply won't find anywhere else.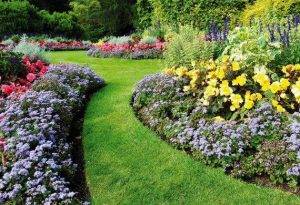 The Most Reliable Landscaping in Abingdon
Whether you need landscaping in Abingdon for a small or large job, we can give you anything you're looking for with our excellent landscaping design, and garden maintenance.
We understand that finding the right landscaping in Abingdon can be a tricky process… You want to make sure that you are getting landscaping design that's unique to your property – and that's exactly what you'll get from us!
To completely transform your exterior, this starts with us having a discussion with you about what you want, then our landscaping specialists will create a design plan for you to visualise. Below includes a list of features we can do for you:
• Patio and pathway installation
• Fencing installation
• Block paving
• Turfing
• Water feature installation
• Pergola installation
To make sure you have the best garden in town, finish it off with our fantastic garden maintenance services!
• Garden Design
• Grass cutting
• Hedge trimming
• Pruning
• Weeding
• Plant bedding
• Site clearance
All these services combined will mean you have a garden that's enjoyable to relax in, visually appealing, and up-to-date to improve the value of your home – there's nothing not to love about our services.
Get In Touch With Us About Landscaping in Abingdon
If you think that our landscaping in Abingdon and Oxfordshire will be the solution you are after, simply give us a call today and we can get the wheels in motion – we guarantee you will be choosing the best team for your garden design!