This case study consists of a combined project which shows the diversity of oak sleepers as a landscaping material. It also demonstrates how versatile oak is and how it can join other constituents to create a multifunctional zone or a display within a garden.
The Hard Landscaping Materials:
Oak has been used as a traditional construction material for centuries. It is a hard wood of exceeding strength and heavyweight by nature, making it very sturdy for building anything from boats, to beams, flooring and barrels. With an attractive hue and a strong grain, it gives a rustic charm while also being resistant to fungus.
Sandstone paving flags gave a durable yet warm and complementary surface texture to the natural tones of the wood.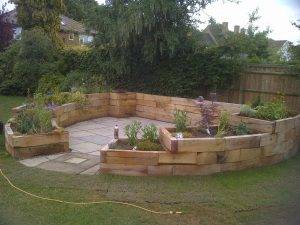 Oak Sleepers Large Construction Brief
This large construction project was to build a mixed height series of raised borders of two sleepers high progressing through to three sleepers at the highest point. These were designed to form a surround to a central patio area. A horseshoe shape with three raised beds to encompass the semi-circular stone patio area, this provided shelter from the breeze and when fully planted the aromas and scents of the plants and flowers fill the air for the enjoyment of those who are sat enjoying the garden. Being a raised structure gave the space a sense of privacy while being easy to maintain due to the elevation of the beds.
The border used oak sleepers cut to 1200cm lengths with an angle sliced at each end of 7 degrees to achieve the crescent layout. The beds were fully planted, with a utility patio area to the inside using sandstone paving in four mixed sizes. Turf was trimmed and laid so that the lawn was flush with the paving and the oak structure.
Experts in Wood and Oak Sleepers Structure for Garden Landscaping
When it comes to creating innovative design features and garden landscaping in Abingdon and Radley, we have the knowledge, skills and experience to build garden structures to delight you and your guests. We can build spaces which are perfect for entertaining, growing plants and enjoying all year round. Please contact us with your enquiries.