Simple Ways To Fill Your Garden With Wildlife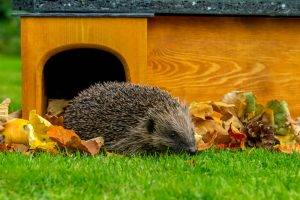 Many of us love getting out into nature and seeing wildlife running free and enjoying themselves. Butterflies landing on large open flowers, hedgehogs sneaking around in the dark, birds making themselves at home in trees. It's all beautiful to see.
If you have a garden or outdoor space, the wonders of nature are right on your doorstep. What's more, there are a number of wonderful ways to encourage wildlife in your garden too. From bug dens to bird boxes; on the ground or way up high, you can help wildlife to thrive from the comfort of your own home!
And it doesn't always take too much effort either! Just a few small changes can drastically increase the amount of wildlife in your garden. Here, we've put together some handy hints to help you get started.
Hedgehog Homes
Hedgehogs aren't the most social of creatures. A mixture of being nocturnal and wanting to hide from the world means we don't see them all too often. And when we do, they're usually making a break for the undergrowth to get away!
But it's likely that these prickly friends have and will pay your garden a visit. And a great way to help these little guys feel at home is to build them a little den along with a little water nearby. While some might suggest leaving out cat food for hedgehogs to eat, if you have lots of cats living nearby it'll probably only deter them from visiting. You can, instead, get dry hedgehog food from pet stores that's made especially for them.
Many garden centres now sell hedgehog houses too! However you can make your own fairly easily. To do so, find a small area under a shrub or a large bush that will offer them some protection. Then, take a larger plastic pot, turn it upside down and carve out what looks like a large mouse hole. Pop it under the bush and give it some time…
Another great tip for looking after hedgehogs in your gardens is to set your sprinklers to go off in the evening. They really appreciate the shower…and you may see them frolicking on the lawn if you're lucky!
Frog Farm
Now, we're not suggesting that you start breeding frogs. In the right environment they'll take care of that themselves! We mean creating a home for frogs in your garden.
Contrary to popular belief frogs don't need masses of pond space. In fact, they've even been known to make homes out of large buckets of water! But if you really want to go the whole hog, a small pond at ground level surrounded by large shrubs and places to hide makes a great den for these little creatures. Many thrive in water that has limited movement, but some may also move in if you have a fishpond with waves in. They aren't all that fussy.
Don't be disheartened if no one moves in straight away. If you're in a large urban area, they may not be able to get to you. But even the addition of a water feature, small or big, will encourage all sorts of wildlife, even if the frogs can't make it.
Bird Bliss
We've all had a bird house in our garden at some point. Maybe one you built as a child, one that your child has put up, or one you inherited when you moved in. So we all know how much birds love their boxes!
If you're looking to fit a bird box, we recommend you get it high into your chosen tree amongst the branches to give them the best privacy. If you love a spot of bird watching some bigger boxes have separate sections to allow multiple nests. These are fantastic for wildlife enthusiasts and families who take an interest in the birds that visit their gardens every year.
If you are looking for a more natural space for your birds, make sure you have enough tree and branch space for them. Higher bushes also make a great spot for nests…and don't forget bird feed! If you put it out, they will come!
Bug Boxes
Bug boxes are big news in wildlife parks, farms, zoos and maybe even your local park. They can be made from a mixture of random items you find around the garden. You can build one that looks purpose built (like a grand hotel for critters), or one that looks like a mini pile of garden waste (this can give them odd little spaces that they'll love).
Good things to use include house bricks (the ones with the holes in), lots of sticks and twigs, wood (use wood to build a little roof to give them some weather protection), dried leaves, a space to put bits of fruit, and some little pots to make nests in. Many that you find in public areas are built taller and have different levels with each of these materials. Using a range of materials attracts a different selection of bugs. Look out for those ladybirds!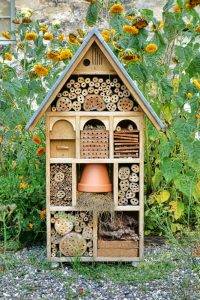 Spider Saloon
Not everyone loves spiders inside their homes, but why not help them to thrive outside? Spiders will happily move into your bug boxes along with all the other little critters. But there are things you can do to encourage them in other areas of your garden,too.
Spiders can thrive when they are sheltered from the elements, which means the best place for them is right near your house. To help them along, provide them with some tall plants and mulch and they'll be whipping up a new web in no time. Whether this is in your borders or as part of a window box (this makes great viewing if they fascinate you too!) they'll be moving in sooner than you think! They also love a small pot on its side to take over and call home!
Here at Abingdon's we love wildlife and would hate to see it to decline even further in Britain. If you need some support in encouraging wildlife into your garden, we can help. Whether you're just looking for support with maintenance, or a full landscape overhaul, contact us today to see what we can do for you, and how we can help the wildlife thrive in your outdoor space.