High Quality, Affordable Fencing in Abingdon
Replacing and repairing fencing in Abingdon is an aspect of property maintenance that we frequently notice has been overlooked.
Here at Abingdon's Complete Garden Services, we offer a huge range of maintenance services for your home and garden, and undertake all kinds of general work. This service can save you time and money, as well as ensuring your property is up to scratch in every way.
Many homeowners will tell you that having a fence installed on their property makes a huge difference to their security and privacy; yet, we very often see fencing in Abingdon which is in desperate need of a little tender loving care. A properly maintained fence can make a world of difference to your premises. They not only look neat and well-presented, but they have plenty of practical benefits too and complement your pathways and patios perfectly.
For starters, a new fence can really improve the privacy in your garden. You will be able to relax comfortably in your outdoor spaces, and will not have to worry so much about prying eyes. This has the knock on effect of improving the security of your property. A sturdy, well-constructed fence can make an excellent deterrent to would-be trespassers.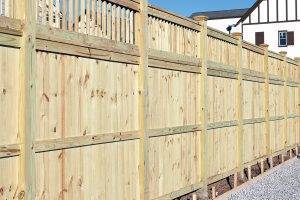 A Range of Styles for Your New Fencing in Abingdon
We know that our customers enjoy having choices when it comes to choosing their new fencing in Abingdon, and as properties come in a range of styles, it's important to ensure your new fence will complement your home and garden design. To make sure your new fencing in Abingdon is a perfect match for your property, we offer a selection of styles and finishes. For example, we commonly install flat topped fencing in Abingdon, as well as scalloped styles, and there is a choice of wood coatings available to choose from.
Our fencing is made to measure, so whatever the shape or size of your property boundary, we can provide you with a gorgeous new fence to enjoy. If you'd like to get a better idea on the range of services we provide, and what our completed outdoor projects look like, check out our garden maintenance gallery, and our property maintenance gallery for our interior work. As well as creating stunning fencing in Abingdon, we also carry out the following work to home exteriors:
• Grass cutting
• Hedge trimming
• Plant bedding
• Patio and pathway installation
• Block paving
• Turfing
• Re-Turfing
• Pergola installation
Call Us Today for a Quote on Our Fencing in Abingdon
If you are interested in getting your hands on a quality installation of fencing in Abingdon for your property, please don't hesitate to get in touch with us by telephone, or online. We offer free price quotes, and any tidying up that needs doing afterward is included in the quote, so there will never be any nasty surprises.