Add Personality with Paving and Patios from Abingdon's
Creating eye-catching paving and patios in Abingdon is one of the premium services we offer here at Abingdon's Complete Gardening Services.
Our brick and stone natural paving is low maintenance and will only need the occasional clean in the summer.
Paving in your garden allows you to play with textures, colour and laying patterns to create atmosphere and interest.
We are here to inspire you to create the best garden space possible, so here are some ways to take your patios and pathways to the next level.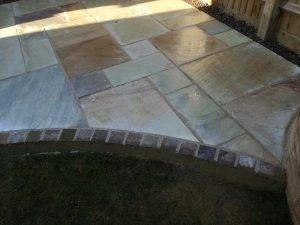 Choose Your Shape – Whilst traditional square and rectangle paving look great, think outside the box with gentle curves and round paved areas that complement planting borders perfectly.
Offset diamond designs are a bold choice that will instantly draw attention, becoming a centrepiece of any garden. The clean lines and tessellating slabs add subtle interest and create a stunning visual.
Pick Your Pattern – Your finished patio's look will depend on the type of slabs you choose for the design.
If you'd like a rustic look that uses natural textures and colours, consider a mixed paving design with a variety of colours and shapes creating something truly unique.
Alternatively, plank-shaped slabs are a great way to connect your interior design with your outdoor living space using a stylish herringbone pattern.
Classy Cobblestones – If you're aiming for a country-style or traditional garden look a cobbled surface with complement planting and rustic textures. Carpet stones are a great way to have an authentic looking surface laid with the addition of grout in a neutral colour creating the illusion each cobble was laid one by one.
Edgy Patios – Decorative edging is the perfect finishing touch for some patios, whether you're going for contemporary or country-style garden design.
Different Levels of Patio Design – Adding different levels to your patio instantly adds interest and allows you to go between the different areas with the addition of steps.
Using traditional red bricks blurs the lines between indoors and outdoors making your garden an extension of your home design.
Patios in Abingdon from Experienced Professionals
Abingdon Complete Gardening Services have over 30 years of experience in providing the finest patios in Abingdon and Radley.
If you'd like to know more about our innovative garden design ideas, please get in touch today.